It´s already over a week ago now, but we are still flashed from our show at the Bang Your Head 2017 and wanted to thank all persons who made it possible: The great Bang Your Head crew consisting of Horst and Ines Franz, Frank Rottmann, Thomas Michel, Martin Brandt (our first class backstage guide), all the drivers, caterers and the best technic crew in the world, all the bands we met and of course YOU the fans! We hope to return someday and have the chance to rock the mainstage! Cheerz and Metal is the law!

On Thursday the 27th of July we will finally wreck the stage of the Headbanger´s again. We will have a different setlist to our show at the Bang Your Head, with the focus on a certain album which is a fan favourite since years. We guess you all know which one! 😉
Our signing session will be at 17:30 where we will have also merch to sell with us and our new autograph cards. Our show will be from 19:45 to 20:45. Afterwards we will for sure hang out at the festival to have some beers with you. Also you can buy merch at the Hellion stand after the show!
So be there, party with us and Metal is the Law!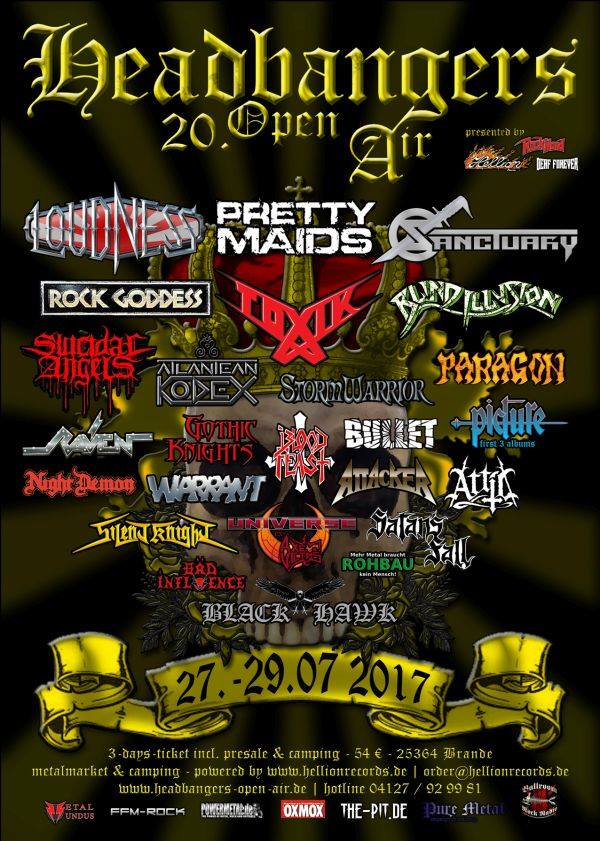 Not too long until we will enter stage of one of the best Heavy Metal Festivals on earth, the Bang Your Head!
We will wreck the stage of the hall of the festival on the Friday the 14th of July 2017  19:35 – 20:35. So make sure to be there in time and bang some head with us!
There will also be an autograph session the same day with us from 15:00 – 15:30. Bring your albums, CDs etc. with you  so we can sign them, take some pictures with us, chat with us or have some beers with us. We will also bring our new autograph cards with us, so be there!
Jan & Jan of PARAGON want you to be in front of stage at their show at the Bang Your Head 2017!